---
Why should YourType design my site?
YourType has been creating beautiful, easy-to-navigate Web sites for professional opera singers, conductors, pianists, visual artists, small businesses and non-profit companies since 1998.
We take pride in making each Web site reflect the unique professional image of the individual or business.
Our specialized "insider" knowledge of the opera industry in particular has helped us carve out a valued niche–creating sites for professional opera singers, conductors and opera-related businesses.
Do you optimize sites for Search Engines?
Yes! All our sites are designed with search engines in mind.
We want everyone to be able to view your site in all its splendor.  So we design beautiful, functional sites that look great on any computer or mobile device with any Web browser.
One of the most important things in Search Engine Optimization (SEO) is content. All the copy (text) on your pages should be relevant and rich with keywords. A keyword is a word or phrase that your target audience might type into the search box of their favorite search engine when they are looking for YOU.  We can help you edit your content to include keywords that will get you noticed.
Another thing that optimizes your search engine results is links. The more other web sites link to your site, the higher you will rank in the search engine rankings. You can help this process by posting your link on your Facebook profile and other relevant sites.
Our designs
Below is a partial list of the sites we've created.
Sopranos
Mezzo-Sopranos & Contraltos
Tenors
Baritones & Basses
Conductors, Directors, Other
Web Site Maintenance
We are also available to maintain your Web site, even if it was created by someone else! We'll keep it up-to-date and make sure that the changes we make to your site are consistent with the design you already have. Of course we're also available to do a re-design of your whole site, if you choose.
Sites we maintain include:
Pricing
We will craft the project to fit your budget and your needs. Our hourly rate is $75/hour, and most sites for individuals are in the $900–$1,750 range. This is a one-time fee which usually includes domain name registration, hosting for one year (see below) and (if applicable) instructions on how to update your site yourself.
You may opt to keep your site up-to-date yourself, or you may hire us at our hourly rate on an as-needed basis for updates.
Please contact us if you'd like to discuss a larger project for a small business, not-for-profit institution or foundation.
Hosting and Domain Names
After the site is designed, you need two more things before it can be published: a domain name (e.g. www.YourName.com) and hosting (web space). We can register your domain name for you and do all the configuration if you like. Also, you're welcome to provide your own hosting but I can host your site on my server hassle-free.
If you choose to have us handle hosting and domain name registration, you may renew these services annually for $125-175 (price subject to change).
Keeping your site up to date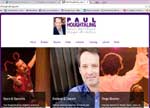 Your site will be designed with the popular WordPress platform. Updating your text pages is fairly intuitive and we'll provide you with a customized instructions document for modifying your site. As well, you can always call with specific questions as you get acquainted with the updating process.
If you find you don't want to do updates yourself for any reason, we're available to handle that for you at the current hourly rate.
How does it work?
First, we will ask you some questions about yourself and what you want for your site.
What is the purpose of your site? An online brochure, provide information for your family/fans, appeal to casting directors (audition package) … 
What adjectives describe your professional image? Modern, sassy, elegant, sleek, colorful, comic, versatile, simple…
What color or color combinations represent your professional image and style? Light, airy earth tones? Dark, stormy combinations? Match your headshot? (Be as specific as you can.)
What website designs do you love? Which do you dislike?
We'll draft a basic letter of agreement so we can both be completely clear. After reading, sign and return the letter with your down-payment (about 1/3 of the site cost).
Within a week, we'll post a basic "placeholder" page at your domain name.
We'll send some basic options for your site design (logo, color scheme).
After you review the design(s), you'll say, I like this, I don't like that, etc., and we will make appropriate revisions.
In most cases, the site can be completed and online in 4–6 weeks!
To get started planning your site, download our free Website Preparation Guide.